"Papa – what are you doing?" My five year old daughter was watching me glued to toplink for some days now. As a first time Davos-er, Toplink– the world economic forum's event app had become my constant companion.
I said – "I am going to Switzerland tomorrow, toplink is helping me prepare."
"Oh, homework? Why are you going to switzerland?"
I knew that there are atleast five more questions coming. I braced myself. "There is a conference called – World Economic Forum."
"ohh, what will you talk about there." By now she knows that conferences are places where people talk.
"The Fourth Industrial Revolution" "Ok Papa, I have to go. My friends are here"
And she started towards the door.  Just as she reached the door, she turned back and told me – "you pay attention and when you are back – tell me what you learnt." What I tell her everyday while dropping her to school, she just threw it back at me.
And now, my week in Davos is over. I can see her anticipation. After the chocolates are consumed, she is going to ask the question. And this is what i took from Davos for my Daughter.
Dear Anjalika,
Here is what i learnt – one key message per day – which i thought i will share with you.
I reached Davos on a Monday, a day earlier, as the Young Global Leaders program was to begin early Tues. Due to a mixup in hotel reservation, i ended up with not having a room for the night and was in a minor p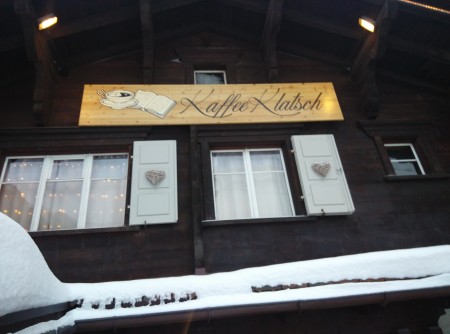 anic situation. Its impossible to get places to stay in Davos during WEF. A swiss lady who was manning a bar outside a sportsbar saw me franctically calling up friends and checking online. She asked me what was wrong. Explained to her my situation. A couple of hours later, as she was closing up the bar, she checked with me again, it was close to 8pm and i didnt have a place. She spoke to the lady who runs the sports cafe next door. Between them they figured out that they can put me up in a simple room just on top of the bar! I was amazed. At a time where people were making a killing – quoting 800-1000 CHF per night for a bed, here is a bunch of complete strangers, opening up a place for me to sleep.
My first learning for you – Never underestimate the power of kindness of strangers. As you grow up, be kind to strangers and never hesitate to ask for help. You will be pleasantly surprised.
On Tuesday morning our YGL community got together and shared tips on how to survive Davos. As a newbie at Davos, I was curious to hear from other YGLs who have been to Davos before, on how to navigate this craziness. Repeatedly we heard this advice – Be Present – avoid the davos look. THere are so many important and high profile people in Davos, its impossible to keep your attention on the person who are in a conversation with. THere is always someone that you think you will never see in person, who will pass by you. THe advise was to focus on the conversation and the person. Be Present. Avoid the peeking over the shoulder syndrome (Avoid the Davos Look!).
Second Learning – Be Present. I know i have not been exactly present on many occasions when with you. Henceforth, I will try my best to avoid my phone when we are out, or when i am dropping you to school.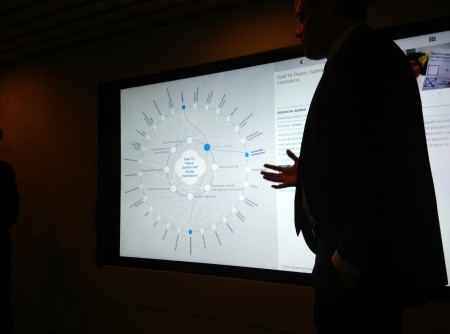 On Wednesday, I attended multiple sessions on sustainable development goals. After a three year deliberation, 193 countries around the world agreed to 17 sustainable development goals. By 2030, the time you are 20 years old, the mission is to "Transform the world" and make it an equitable place for everyone. It was eye opening to see how each of the goals are interconnected. Over the next 15 years, we have a enormous challenge infront of us to reach these goals. And we need everyone to be a changemaker. As you grow up, you will have many opportunities to be a changemaker and i hope you will seize many of them.

Third Learning – Every problem in this world is interconnected to another – so pick any problem worth solving and you will have tremendous impact on every other problem we are facing.
On Thursday, we the Young Global Leaders had the privilege of hosting Alibaba's Jack Ma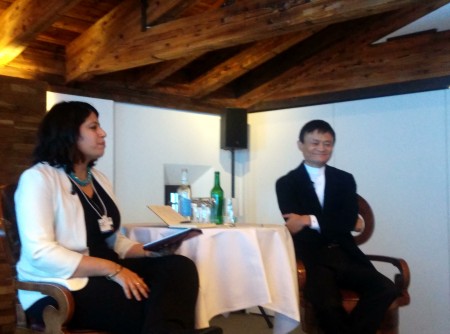 for an hour of free wheeling chat on his early days, growth of Alibaba and the future of his company. What stood out for me was his bold vision and refusal to take rejection. He was quite frank about the innumerable times he was told he was wrong and how he was rejected every step of the way. He and his team believed in their vision and stuck with it. Also his commitment to rethink the role of teachers in our society. Being a teacher himself, he was quite passionate about the role of teachers and his foundation work in education in China. Most importantly, his commitment to use his influence to bring respect back to teaching as a profession

So Fourth learning – Be Bold, and be ready for rejection. Anything worth fighting for, will face resistance. Your team and your conviction will help you overcome resistance and rejection.
On Friday, I attended a session by MIT Ideas lab, where two teams from MIT presented their ideas on early cancer detection and manipulating brain signals by activiting specific chemicals triggered by light. At the end of their presentation, they split us all into groups and the presenters asked us to give their views and ideas on how to take these ideas to clinics and patients. Oh, both of these presenters were Nobel Prize winners in Medicine and Physiology when i was in college! It was so refreshing to see people who came from such diverse background as arts, physics, not for profit sector and politicians voice their ideas and engage in a fascinating conversation with the researchers. I wish you could be part of such interactions. And you feel free to give your inputs.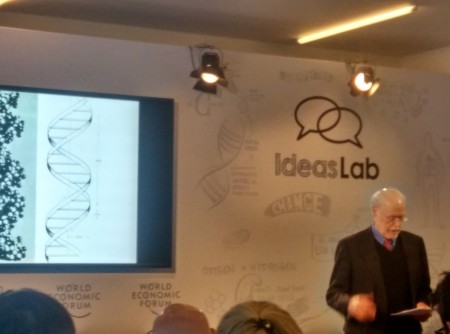 Fifth Learning – Everyone is looking for inputs, we are all human. We all should seek out opinions, from diverse sources.
The final day, i asked my fellow YGLs what they will tell their children when they go back. Here are a few things they told me.
Amadeu Hott from Senegal said he will share how proud he was that the president of the World Bank cited Senegal as the example of progress and how as children they should be proud of what their country is doing.
Alexander Torrenegra said he will tell his child – most people that have positively impacted all of human kind are normal people. You don't have to be a genius. You just have to be a bit crazy and think different.
Zoe Keating, cellist and performer shared that her son who is 5 years old is always worried about who will help his mom with wires when she is done performing. She said she will tell him that she was helped by good people.
And that, dear Anjalika, is what i learnt –
Be Bold, Be Present, Be a Changemaker. Ask for help when you need, Dont hesitate to give your inputs, and Be open to kindness in unexpected places.